A limited edition of PRIM VH 80 watches
In cooperation with the Dagmar and Václav Havel VIZE 97, the company ELTON hodinářská, a.s. prepared  a limited edition of PRIM watches commemorating President Václav Havel.
The watch design is elegant and minimalistic and includes many original elements. The hand-decorated, enameled dial includes Václav Havel's miniature signature, the number 80 and a little heart that the president used to add at the end of his signature. To make an association with the heart, the crown is adorned with a cabochon made of real Czech garnet. On the back, there is Václav Havel's date of birth and death and the serial number of the limited series.
The watch has a mechanic in-house rotor that, just like the watch, was made by the company ELTON hodinářská in Nové Město nad Metují.  The rotor bridge is decorated with the inscription HUMANIST, DRAMATIST, PRESIDENT, commemorating the different aspects of Havel's personality.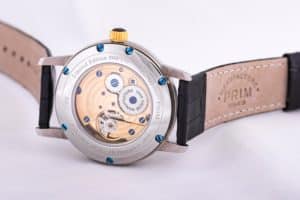 The special limited edition will comprise of 136 watches. This symbolic number was chosen as a reminder of the year 1936 in which Václav Havel was born. The first 10 watches will have an 18-carat case. The case of the following 30 watches will be bicolor, which means a stainless steel and gold combination, and the case of the remaining 96 watches will be made of stainless steel.
Some of the sale proceeds will go to the charity projects of VIZE 97. "We are very honored that the Dagmar and Václav Havel Foundation VIZE 97 chose our Czech watches to officially commemorate President Havel," says ELTON CEO Martin Pabiška, adding: "When designing the watch, we made sure that it would be a very dignified remembrance of such an exceptional person as Václav Havel."